The Rise of Fatso - The Fat Arsed Sydney Olympics Wombat
Several years ago Paul Barry wrote a book elaborating the life long accomplishments of one of the four Australian billionaires entitled "The Rise and Rise of Kerry Packer".
During the Sydney Olympic games in September 2000, a television viewing audience estimated at 4.6 billion saw the rise of another Australian creation of a very different sort - Fatso, the fat-arsed wombat.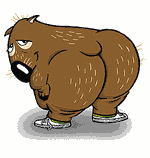 When it comes to sales promotion, marketing and future revenue production, Channel 7's executive chairman, Kerry Stokes, and his "Dream Team" hit an audience bull's eye through coverage of the games via a late night TV production called simply, "The Dream".
A Very Unique & Different Aussie Perspective
As the unofficial Olympic events evening recap show, "The Dream" was the brainchild of 7's program director Tim Worner and was produced by Todd Abbott.
Featuring the talents of resurrected Channel 7 veterans John Doyle and Greg Pickhavier - now worldly known as Rampaging Roy Slaven and H.G. Nelson - "The Dream" became one of the biggest Australian home grown hits ever during the Games.
The final night of the Olympic coverage saw "The Dream" hit an Australian audience of 2.54 million viewers, according to A.C. Nielson ratings. That's 14 out of every 100 people in the country watching the last two hours of this bawdy Aussie humour and loving every minute of it.
When I interviewed producer Todd Abbott for this article, he said that nearly everyone had been totally amazed by the success of the show. Todd further replied that most of the "Dream Team" had slept overtime for the entire week following the Olympics. Obviously an outstanding promotional success and, like any good marketing effort, with a price to pay.
Todd was quick to give credit to a number of people regarding "The Dream" and to his long-time friend Paul Newell (the designer of Fatso), for coming up with the cheeky competitor to the official Olympic mascots - Millie, Ollie and Syd.
Fatso caused a frenzied sensation during the Games, joining Gold Medallists such as Michael Klim, Susie O'Neil and Grant Hackett on the winner's dais during their presentations.
The cuddly, cult wombat at one point even attracted the ire of the Australian Organising Committee, who suggested that Fatso had threatened a $15 million AOC marketing campaign geared towards the famous America Cup branding mascot, the boxing kangaroo, which was bought from former Australian of the Year, Alan Bond.
Paul, a former animator at Disney, said he came up with 15 drawings before the final draft was accepted. The reaction to the stuffed wombat by competing athletes and past Olympians was unanimous. It seems everyone wanted to be associated with the show and the larrikin mannerisms of Fatso.
National Advertising and Education
Environmentalists, Green Peace and the Queensland Government also benefited from Fatso, by bringing the strife of the real wombats to the attention of the public through national advertising and education.
According to Minister, Rod Welford, the only known population of about 75 northern hairy nosed wombats is in the Epping Forest National Park, near Clearmont in Central Queensland. Programs are already being developed for protection and habitat improvements for these little creatures. The rollover effect of the Olympic wave and the new public enthusiasm for Fatso has created an awareness that would have most likely never occurred otherwise.
To further poke fun at the serious nature of the Games, Fatso used his biggest asset - his arse - to leave a little "something" on the Olympic track on national television, as if to say "Not only am I big, but I can also get away with this. ... Just watch me!" And "The Dream" viewing audience loved it.
This larrikin humour is what has caused Australians to be embraced so well by other nations over the decades. Their very nature is to not take situations (or life) too seriously, but to know when to take on tasks (such as the Anzacs). This shows commitment to the pride of a changing heritage and getting the job done as proud Aussies - oi, oi, oi!
And a Big FATSO Finish
As if it were not enough to finish the games with a massive closing ceremony, H.G. and Roy's "Dream Team" concluded with Fatso extinguishing the Olympic Flame with his fat arse! If you saw it, you would be hard pressed to not have had a last minute private chuckle.
Fatso, the fat-arsed wombat, brought in charity bids of $30,000, $50,000 and $70,000 before being auctioned off for a final bid of $80,450. That money will go to the Olympic Aid Charity for refugee children, and what an impact those funds will make over the long term.
So, who are the real winners of the rise and rise of Fatso?
I think it has been the general public. They benefited from the bright ideas of a few individuals who dedicated themselves to entertaining, educating and empowering the viewers of Channel 7 to take part in the Olympic Spirit.
What great, original ideas and innovations can you come up with to help promote your business? If you don't have any, why don't you give me a call? Maybe we can help you develop a few new strategies for the New Year.
About the writer / author
Rob Salisbury, B. Com, CSP has addressed over 450 Australian companies and over 2000 teams / events in the U.S. New Zealand, Singapore and SE Asia over the last 20 years.
Rob served as 2001 to 2003 President of the NSW National Speakers Association and five years as a Director on the Australian National Speakers Board. An industry recognised sales and marketing strategist, he was tranferred from sunny Scottsdale, Arizona in 1997 to Sydney Australia.
For more information, contact Rob in Australia at 0412 414 835 or our web site at www.strategicresources.com.au or
Need a speaker, corporate trainer, facilitator or business strategist for your next event with success stories and client results to imapct your team or executives?
If this article and topic has struck a cord with you, this can be delivered in a keynote address, a live interactive group presentation, a facilitated workshop program or tailored to your team or company objectives.