Results...the name of the game in business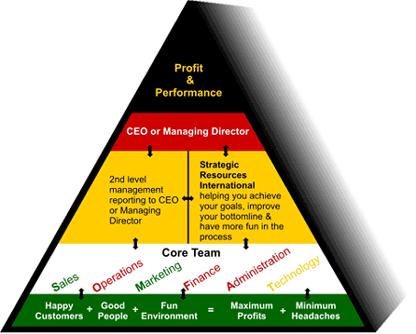 Each year, Strategic Resources International is engaged by clients to help generate higher sales, find new revenue channels and motivate teams to perform at higher standards of client engagement and customer service.
Menu of Corporate Programs and Personal Workshops
The vast majority of SRI programs and presentations are tailored specificially to sales, customer engagement and operational teams through public seminars and corporate training programs.
Educational topics and workshop menu
Hundreds of tailored programs have been designed, delivered or re engineered by SRI for teams in the insurance, real estate, mortgage, furniture, kitchen, carpet, automotive, freight forwarding, logistics, medical sales and MICE industries.
Other programs have been developed for business and network groups such as Sales and Marketing Executives International, the American, Armenian, British and Vietnam Chambers of Commerce, Rotary International, Toast Masters International, The International Coach Federation, The Asia Pacific Coaching Alliance and the National Speakers Associations located in the United States, Australia, New Zealand and S.E. Asia.
With over 2200 engagements delivered across six continents, Rob Salisbury's enthusiasm and knowledge as a sales trainer, conference facilitator, keynote session presenter and event host or MC has been a trademark for success for event organisers.

Rob Salisbury's Speaker Profile
International Accreditations
Rob is a multile time attendee and graduate of Tom Hopkins Sales and Management Mastery Programs.
As taught by Mr. Hopkins through live events and mentoring, Rob has achieved award winning results and sales achievements such as President's Club Honours and record breaking seminar attendances at USA, Canadian, Australian, New Zealand and Asian conferences.
Rob was accreditation as a certified presenter of Mr. Hopkins award winning sales training programs as overseen by Tom Murphy (former CEO) and Don Jennings, VP of Training and Development.
In addition to over 30 years of training and conference involvement with Mr Hopkins in the United States, Australia and SE Asia, Rob sought and acquired industry accreditation in professional training and certification through the National Speakers Association in the United States and Australia.
In 2003, Rob completed a five year internship (1997 to 2002) to qualify as one of just 450 people worldwide to obtain Certified Speaking Professional (CSP) accreditation. An international certification confirmed by the National Speakers Association (NSA) in the United States and National Speakers Association in Australia (NSAA).
A two term award winning President of the National Speakers Association in Sydney, he served as a Director on the NSAA National Board for five years.
His education and skills development have continued as a contributing member of the Global Speakers Federation and senior advisor to the NSA of Australia, NSA of New Zealand and Asia Professional Speakers in Singapore (APSS).
SPEAKNG / MICE INDUSTRY FIRST
In 2005, Rob was the first international CSP to have dual residences and presence in Australia and Singapore.
This benefit to SRI clients and customers has helped them generate new results (without the extra expense associated to air fare or on ground travel or hotel charges) when hiring international expertise in Australia or throughout SE Asia.
For more information on how Strategic Resources International Pty Ltd can design a quantifiable results driven training program or workshop for your company or team, e mail rob@strategicresources.com.au or call SRI Australia at +61 412 414 835 or SRI Singapore in SE Asia at +65 9017 1825
Click here for speaking schedule
Advanced Learning Resources
Recommended learning resources include the following international best selling books and authors.