Introducing
2020 Asia, Australia and New Zealand Events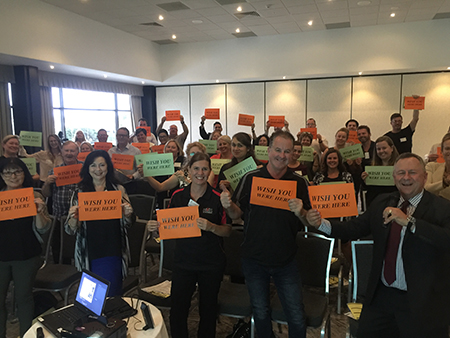 2020 Asia, Australia and New Zealand Events
SRI public seminars, in house corporate training programs and workshop are presented by SRI certified trainers and topic experts.
With academic qualifications, solid track records and MICE industry accreditation, SRI speakers, presenters, facilitators, trainers and emcees help clients create long term results.
Team programs and topic modules range from 30 minute sessions to half day, full day and on going learning programs.
If you do not see a listing for your city, e-mail SRI to rob@strategicresources.com.au for general enquires.
Location
Date
Time
Event
Speaker
Contact
Suntec Singapore Convention & Exhibition Centre
1 Raffles Blvd
Singapore
May 2020
Tuesday 12th & Wednesday 13th
Tuesday 12th
8:50am registration
Close 5:50pm
Wednesday 13th
9:00am
Close 4:15pm
HR Tech Festival Asia 2020

Rob Salisbury CSP
Host/Event MC
For more information and to register go to this link HR Tech Festival Asia 2020

Lifelong
Learning
Institute
Lecture Theatre
(Lobby B, Level 2)
11 Eunos Road 8
Singapore
January 2020
14th
Tuesday
7pm to 10pm
Ideas & Inspiration
Live @ LLi
(Listen to inspirational speakers share their wisdom)
Rob Salisbury CSP
Event Host / MC
For bookings for this "free to attend" event click
Ideas and Inspiration 14 January 2020
Lifelong Learning Institute
Lecture Theatre (Lobby B, Level 2) 11 Eunos Road 8
Singapore
December 2019
17th
6:30pm to 8:30pm
Ideas Inspiration Live @ LLi
Rob Salisbury CSP


Event Host / MC



For more information contact:
Rob Salisbury - +65 9017 1825
Email: rob@strategicresources.com.au
Lifelong Learning Institute
Lecture Theatre
(Lobby B, Level 2)
11 Eunos Road 8
Singapore
October 2019
15th
Tuesday
7pm to 10pm
Ideas & Inspiration Live @ LLi
(Listen to inspirational speakers)

Rob Salisbury CSP




Event Host / MC




For bookings for this

"free to attend" event

click


http://bit.ly/Ideas_and_Inspiration_15Oct2019
PSB Academy City Campus
Marina Square
6 Raffles Blvd
Singapore
June 2019
29th
Saturday
8:30am to 6:00pm
World Success Summit 2019
Rob Salisbury CSP Keynote Speaker
Topic: How to Get More Mileage from your Flying Experiences
For more information and to register for your free seat click on the following link https://www.worldsuccesssummit.com/
Suntec Singapore Convention & Exhibition Centre
1 Raffles Blvd
Singapore
May 2019
Wednesday 8th & Thursday 9th
Wednesday 8 - 8:50am registration
Close - 5:15pm
Thursday
8 - 9am registration
Close - 6pm
HR Festival Asia 2019
Rob Salisbury CSP Host/Event MC
For more information and to register go to this link www.hrfestivalasia.com For all queries, you can call (+65) 6423 4631 or email info@hrfestasia.com


Life Long Learning Institute
11 Eunos Road
Singapore


April 2019
Tuesday 16th
7pm to 9:45pm
Ideas & Inspiration Live @ LLI (Series of Inspirational Live Events)
Rob Salisbury CSP
Event Host / MC
For bookings for this "free to attend" click - http://bit.ly/Ideas_and_Inspiration_16April19
Bligh Room
Club York
95-97 York Street
Sydney
March 2019
Wednesday 27th
5pm - 7:;30pm
CDAA NSW Division
How to be a more effective career coach
Rob Salisbury CSP
Places are limited. Register at "How to be a More Effective Career Coach". Click here to download brochure for more information.
W Singapore
Great Room 2
21 Ocean Way
Sentosa Island
Singapore
March 2019
Monday 18th
9am - 5pm
Al Futtaim Regional Leadership Forum
Rob Salisbury CSP
MC/ Host
Novotel
Clarke Quay
Singapore
January 2019
Tuesday 22nd & Wednesday 23rd
Tuesday 8:30am to 4:50pm
Wednesday
8:30am to 4:40pm
2019 Singapore HR Leadership Summit
Rob Salisbury CSP
Master of Ceremonies


For speaker information and event bookings click on this link:
https://hrleadership.network/summit/singapore-hr-leadership-summit/
Life Long Learning Institute
11 Eunos Rd
Singapore
January 2019
Wednesday 16th
7:00pm to 9:45pm
Ideas & Inspiration Live @ LLi
(Series of Inspirational Live Events)
Rob Salisbury CSP
Event Host / MC
For bookings for this "free to attend" event click
- http://bit.ly/Ideas_and_Inspiration_16Jan19
Life Long Learning Institute
11 Eunos Rd
Singapore
October 2018
Tuesday 16th
7:00pm to 10:00pm
Ideas & Inspiration Live @ LLi (Series of Inspirational Live Events)
Rob Salisbury CSP
Event Host / MC
For bookings for this "free to attend" event click - http://bit.ly/Ideas_and_Inspiration_16Oct18
Life Long Learning Institute
11 Eunos Rd
Singapore
July 2018
Tuesday 17th



7:00pm to 9:30pm
Ideas & Inspiration


Live @ LLI


(Thought Provoking Talks)
Rob Salisbury CSP
Event Host / MC
For bookings for this "free to attend" event click on this link - http://bit.ly/Ideas_and_Inspiration
Park Royal
Singapore on
Pickering
May 2018
Thursday 17th to Saturday 19th
Australian Outdoor Living Conference
Rob Salisbury CSP
Event Host / MC & Keynote Speaker
Suntec Singapore Convention & Exhibition Centre
May 2018
Wednesday 9th to Thursday 10th
8:00 am to 5:15 pm
HR Summit & Expo Asia 2018
Rob Salisbury CSP will be Power Talks Host / Event MC

Watch Rob's introoduction video here http://bit.ly/2018_HR_Summit_and_Expo_Intro
For more information and to register online go to the www.hrsummit.com.sg website.
Shellharbour City Business Network
Warilla Bowls & Recreation Club
Barrack Heights
February 2018
Wednesday 21
5:30pm to 7:30pm
Monthly Meeting topic "How to have your Best Year in Sales and Team Results"
Lead off Speaker
Rob Salisbury CSP
Registrations essential, click here to register:
http://bit.ly/21Feb_Shellharbour_Eventbrite
For more information call 02 4221 6041
Watch Rob's introduction video at this link: http://bit.ly/ShellharbourCBN_21and22Feb
Download information flyer here


Shellharbour City Business Network




Warilla Bowls & Recreation Club




Barrack Heights



February 2018
Thursday 22
8.30am to
12noon
Workshop
"Secrets to finding New Sales, Customers and Referrals in Slow Times"
Workshop Presenter:
Rob Salisbury CSP

Registrations essential, click here to register:


http://bit.ly/22Feb_Shellharbour_Eventbrite
For more information call 02 4221 6041


Watch Rob's introduction video at this link:

http://bit.ly/ShellharbourCBN_21and22Feb
Download Information Flyer here